Exceptional resolution and clarity
P5 double sided
LED screen
Our P5 double-sided color LED screen measuring 70x70cm is an extremely efficient and attractive way to display a variety of content. This LED display is ideal for use in various environments, such as shopping malls, streets, restaurants, concert halls and many other locations.
The P5 LED screen has a high resolution, which enables the display of detailed images, videos and texts. Regardless of the distance from which it is viewed, your message will be visible and attractive.
Thanks to the high resolution of the P5 LED screen, your message will be displayed with exceptional clarity and sharpness. Whether you're displaying text, images or videos, colors will be vibrant and details accurate. Your message will stand out and make a strong impression on every viewer.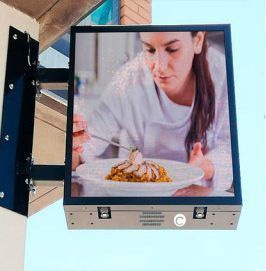 The P5 LED screen enables the display of a wide range of content. Whether you want to display videos, images, text, temperature or the exact time, this screen can display all kinds of content with high resolution and clarity.
Our P5 LED screen offers the possibility of displaying different effects to make your message even more enticing and attractive. You can use animations, image transitions, side lighting, or other visual effects to grab the attention of passers-by and create a lasting impression.
Controlling the P5 LED screen is very simple. You can easily control it via WiFi connection from your mobile phone or laptop. This allows you to quickly update content, customize displayed information and effects, and monitor screen performance from the comfort of your device.
Our P5 LED display is designed for both indoor and outdoor use. With a reliable protective layer, this screen is resistant to weather conditions such as rain, sun and dust, making it ideal for a variety of conditions.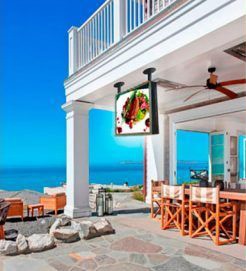 Versatility in displaying content
The LED screen with predefined dimensions of 70x70cm is the perfect solution for dynamic presentation of content. The P5 double-sided LED screen gives you flexibility and the ability to display all types of content on one attractive and high-quality display. The P5 double-sided LED screen is a solution that allows you to highlight your message in an effective way. With predefined dimensions of 70x70cm, this LED screen is perfect for placement in various places where you want to attract the attention of passers-by.